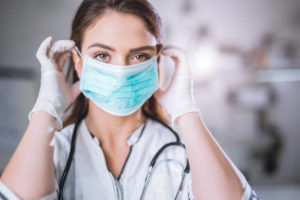 Surgical Mask EUA
During the COVID-19 pandemic, the FDA issued Emergency Use Authorizations (EUA) for certain Personal Protective Equipment (PPE), including Surgical Masks.  Normally a FDA 510K Premarket Notification is required prior to marketing a mask as a Surgical Mask.  This is still a long term requirement.  However, due to the issuance of the Umbrella EUA for Surgical Masks this is not required during the term of the EUA.
The EUA authorizes the emergency use of surgical masks that meet certain performance requirements for use in healthcare settings by health care personnel as personal protective equipment to provide a physical barrier to fluids and particulate matter.
1) Testing Requirements
Fluid Resistance:  The ability of the mask's material to resists the penetration of blood and body fluids.  ASTM F1862:  Standard Test Method for Resistance of Surgical Mask to Penetration by Synthetic Blood.
Bacterial Filtration Efficiency (BFE):  A measurement of the ability of the mask's material to prevent the passage of aerosolized bacteria.   ASTM F2101-01 Standard Test Method for Evaluating the Bacterial Filtration Efficiency (BFE) of surgical  masks using a Biological Aerosol of Staphylococcus aureus.
Differential Pressure (Delta – P) Test:  The measured pressure drop across a surgical facemask material.  Delta-P determines the resistance of the surgical facemask to air flowing through the mask.  MIL-M-36945C  4.4.1.1.1 Method 1 Military Specifications:  Surgical Mask Disposable.
Flammability Testing:  Evaluates the flammability of medical textiles including face masks.  CSPSC CS-191-53 Flammability Test Method (16 CFR 1610) Standard for Flammability of Clothing Textiles.
2) Documentation Requirements
Please contact us for more information or how we can help:  matt@qualityauditconsulting.com
Visit us at:  www.qualityauditconsulting.com or  www.fdaqms.com