N95 Mask Sampling Requirements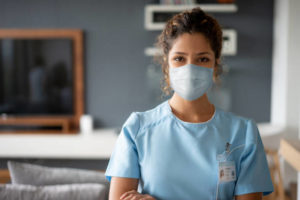 NIOSH 42 CFR Part 84 provides the standards for the approval of N95 respiratory protective devices.
The approval of N95 respiratory protective devices requires that there be a Quality Control Plan in place.
Part 84.41 describes the Quality Control Plan.  One of the parts of the Quality Control Plan which must be in place in the Sampling Plan.
84.41 provides two references for sampling plans that can be used to model your company's sampling plan after.
Military Standard MIL-STD-414, 11 June 1957, including Change Notice No. 1, "Sampling Procedures and Tables for Inspection by Variables for Percent Defective"
Military Standard MIL-STD-105D, 29 April 1963, "Sampling Procedures and Tables for Inspection by Attributes"
The Military Standard procedures provide the process for which a mask or respirator manufacturer will determine the amount of samples to be inspected for each run/batch during production and the Acceptable Quality Limit (AQL) required for each pre-determined mask or respirator characteristic/attribute.
The plans will help you determine the classification levels for each of your masks' characteristics.  Levels will be defined as Critical, Major A, Major B, and Minor.
Using the definitions for the classification levels the AQL is  determined for each mask or respirator characteristic and potential defect.
The AQL is then used to determine, based upon the batch size, the number of masks or respirators to be pulled from the production line for final inspection.  This information is critical for determining if a run/batch has met the AQL and ultimately the maximum allowable defects per batch.
Understanding the sampling process as outlined by NIOSH is critical for understanding whether or not a run/batch of masks or respirators can be released for commercial sale.
For help in navigating these procedures and help creating your own Quality Control Plan contact us at www.qualityauditconsulting.com or e-mail us a matt@qualityauditconsulting.com.
Additionally, our quality management system document offerings can be seen at www.fdaqms.com